** W E B A R C H I V E S Quip, not updated ** necessary due to the absence of the page on www.bataviawerf.nl ** to Quip's home **


Welcome to the Batavia Yard
The Batavia Yard in Lelystad, the Netherlands, is foremost a center for traditional shipbuilding. Since 1985 over 200 young people have built an authentic reconstruction of the VOC-merchantman Batavia from 1628.
For a Virtual tour around the ship see these pages.
The Batavia has returned home from her 20-month visit to Australia. On June 12th the ship arrived back in Lelystad. From 1st July onwards the ship will be open again for visitors.
In 1995 the Batavia was launched. In the same year the keel was laid for the reconstruction of the man-of-war De 7 ProvinciŽn (= "Seven Provinces") from 1665.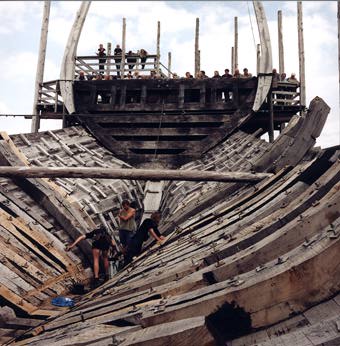 The Batavia Yard is a first rate tourist attraction. A visit to the yard offers you a fascinating view of Dutch shipbuilding of the 17th century.
This dynamic shipyard is open daily to the public. We offer guided tours, videoshows, a restaurant, a souvenir-shop etcetera.

More information on opening-hours, entrance fees and accessibility.

In 1999 the 'Centre for maritime history' has opened its gates for visitors. In this centre archaeological findings, such as wrecks and artefacts, are being presented. Also a special pavilion on inland shipping on the former Zuyderzee has been added to the yard.
If you wish to receive more information on the Batavia Yard, i.e. group visits etc., please order our documentation.
---
---
Home ||Yard || Training project || Batavia || 7 Provincien || Maritime Archaeology || NEWS
---
---
Laatste wijziging: