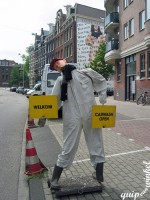 in a friendly neighborhood . . .
in een vriendelijke woonbuurt . . .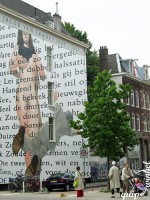 Art goes first.
If the neighbours opposite don't like it,
they can simple close their curtains.
Kunst moet kunnen.
Als de overburen het niet waarderen,
kunnen ze toch hun gordijnen sluiten.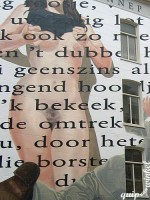 The city council offers money to the people living across from it, for curtains and frosted window-glass.
Als pleister op de wonde biedt de gemeente de overburen geld voor gordijnen en matglas vensterramen.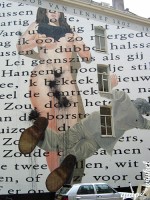 a few weeks later:
art enrichment ?   angry feminists ?   cultural reaction ?
enkele weken later:
kunstverrijking ?   boze feministen ?   culturele reactie ?