Luud Schimmelpennincks plans were clear: "Witkar is a type of complementary individual public transportation and is useful just there where this public
transportation is lacking: the short ride." Clearly with the purpose merely to drive this witkar from station to station.
Luud Schimmelpenninck's plannen waren helder: "Witkar is 'n vorm van aanvullend individueel openbaar vervoer en is dáár nuttig, waar het openbaar vervoer niet
in kan voorzien: de korte rit." Met de duidelijke bedoeling dat men met de witkar enkel van station naar station rijdt.
Easy to use. Open the door with the key and get in. Press down the accelerator and drive to the station of your choice. Step out and lock the door.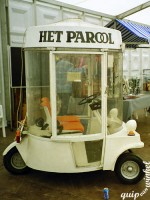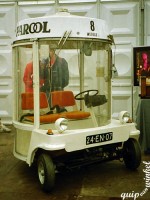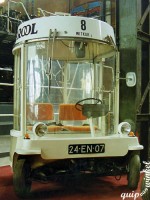 Eenvoudig in gebruik. Met de sleutel de deur openen en instappen. Voet op het pedaal en naar het station van je keuze rijden. Uitstappen en afsluiten.
A short history: Amsterdam citizen and activist Luud Schimmelpenninck presented in 1965 his Witte Fietsenplan (white bike plan) to the city of Amsterdam. Two years later he presented the Witkar (white car) system and one year later in 1968 the first witkar was built and regularly to be seen in the Amsterdam streets. In 1972 two witkarren and a temporary station were set up. In March 1974 the first station was official opened together with four witkarren. At the end of that same year two stations and six witkarren were added. Elandsgracht (near Prinsengracht), Oudebrugsteeg (near Damrak) en Spui (opposite Begijnhof). With a membership count of 2.500. In 1979 increased to 4000 and four witkarren in operation. Three years later station Amstelveld brought into use together with another twelve witkarren. At the end of 1984 the number of members is reached 4570.
A study of the City Dienst Ruimtelijke Ordening and the Amsterdam public transportation (GVB) calculated that, with 20 stations and 35 witkarren, a ten percent reduction of domestic passenger traffic would take place, which stands for 4970 car relocations from which 3000 done by non-residents. That is 17 prercent reduction of occupied parking places and 2664 litres of petrol in the innercity. A planned increase of 7 stations (Kattegat, Nieuwmarkt, Leliegracht) and 25 witkarren did not make it.
Because of a combination of technical problems, amateurish set-up and the Amsterdam culture it was bound to come: operation Witkar officially stopped in 1988. However for some years there were four to five stations and a total of 25 witkarren in use by some of the Amsterdam residents. Costs one million guilden.
Some facts: the witkar is property of the Witkar foundation, powered by an electrical engine of 24Volt, weights 400kg, has a maximum speed of 30km/h and the range of action is around 6 kilometer, about half an hour driving. In every station the battery is automatic recharged within seven minutes. The membership fee is f.25,-. for life; use of the key f.20,00. a year. Fare: up to fifteen minutes for free, for longer rides the tariff is ten cent a minute. Available 24 hours a day. And a driving licence is mandatory.
Een korte geschiedenis: Luud Schimmelpenninck bood in 1965 zijn Witte Fietsenplan aan aan de gemeente Amsterdam. Twee jaar later kwam hij met het voorstel van het Witkar systeem en in 1968 werd de eerste witkar gebouwd die vanaf die tijd regelmatig in de amsterdamse straten te zien was. In 1972 kwamen er op proef twee witkarren met een voorlopig station. In maart 1974 werd het eerste station officieel in gebruik genomen met vier witkarren. Aan het eind van dat jaar kwamen er zes witkarren bij en werden de stations uitgebreid tot drie: Elandsgracht (bij Prinsengracht), Oudebrugsteeg (bij Damrak) en Spui (tegenover het Begijnhof). Het ledenaantal is dan 2.500. In 1979 is het opgelopen tot 4.000 en zijn er tien witkarren in bedrijf. Drie jaar later komt station Amstelveld in gebruik met nog eens twaalf witkarren. Eind 1984 staat het ledental op 4.570.
Een onderzoek van de Dienst Ruimtelijke Ordening en het Gemeentelijk Vervoers Bedrijf kwam (met 20 stations en 35 witkarren) uit op 10 procent reduktie op intern personenverkeer, wat 4.970 autoverplaatsingen betekent waarvan 3.000 door niet binnenstadbewoners. Dat is 17 procent vermindering van bezette parkeerplaatsen en 2.664 liter benzine in de binnenstad. Uitbreiding naar de geplande 7 stations (Kattegat, Nieuwmarkt, Leliegracht) en 25 witkarren bleef uit.
Door een combinatie van technische problemen, amateuristische opzet en de Amsterdamse kultuur kon het niet uitblijven: operatie Witkar is in 1988 officieel gestopt. Toch zijn er dankzij een groep Amsterdammers een aantal jaren lang vier tot vijf stations en in totaal 25 witkarren in gebruik geweest. Kosten 1 miljoen.
Enkele gegevens: de witkar is eigendom van de vereniging Witkar, rijdt op electra met een traxiemotor van 24Volt, heeft een rijklaar gewicht van 400kg, de maximum snelheid is 30km/h en de aktieradius is ongeveer 6 kilometer, zo'n half uur rijden. Bij elk station wordt de accu automatisch in zeven minuten opgeladen. Het lidmaatschap is f.25,-. voor het leven; gebruik sleutel f.20,00. per jaar. Ritprijs: ritten tot een kwartier gratis, langere ritten tien cent per minuut. 24 uur per dag te gebruiken. En een rijbewijs is verplicht.