The Universe Hearse, a 1973 Cadillac, was created by Todd Ramquist and Kiaralinda from USA. the Universe Hearse is fully covered in mosaic.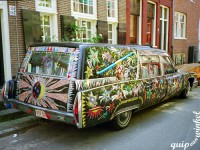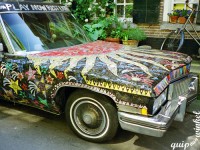 De Universe Hearse is een creatie van Todd Ramquist en Kiaralinda uit Florida, VS. De lijkwagen is helemaal bedekt met mozaïek.
It paraded across the USA, participated in 1997 in a Rotterdam art project while joining art exibitions around Europe.  (re-)visited Amsterdam in 1999. once listed on artcars.com.
Hij toerde door de VS en trok in 1997 door Europa participerend in kunst exposities waaronder een Rotterdams kunst project. (her-)bezocht Amsterdam in 1999.
every piece of mosaic has a message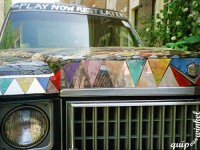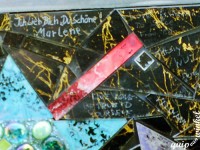 elk stukje mozaïek is van tekst voorzien