Peter Giele, artist and in 1987 co-founder of the well known Amsterdam discotheque the Roxy, suffered in June 1999 at the age of 44 a fatal stroke while riding his scooter.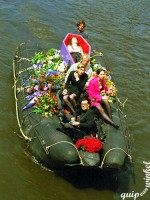 Peter Giele, kunstenaar en in 1987 mede-oprichter van de zeer bekende Amsterdamse discotheek de Roxy, stierf in juni 1999 op 44 jarige leeftijd aan een hersenbloeding toen hij op zijn scooter reed.
The funeral was very stylish with a boatparade over the river Amstel, preceded by some impressive fire-spitting Amsterdams Hells Angels, down to the graveyard Zorgvliet. That the body was sometimes catching fire appeared to be an omen: that same evening the Roxy burned out completely by letting off fireworks inside the building.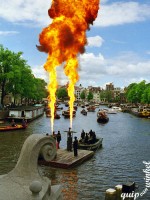 De begrafenis was zeer stijlvol met een boottocht, voorafgegaan door imponerende vuurspuwers (door de Amsterdamse motorclub Hells Angels) over de Amstel naar begraafplaats Zorgvliet. Dat zijn lichaam hierbij soms vlam vatte, bleek een voorbode: dezelfde avond brandde de Roxy tijdens het afscheidsfeest helemaal uit doordat er binnen onachtzaam vuurwerk werd afgestoken.
Both pictures have been taken off Myster TV, an interesting Amsterdam cable tv station which is now off the cable. On the first one the body caught fire, but is quick extinguished. And while lowering the coffin the top came off and Peter Giele took a last peek at his public. All in all an exiting funeral in Peter Giele style. He would have loved it.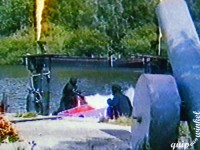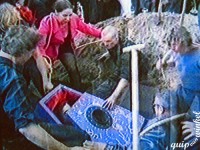 Beide foto's zijn van een Myster TV uitzending genomen. een interessant Amsterdams tv station wat nu verdwenen is van de Amsterdamse kabel. Op de eerste foto vat het lichaam vlam, maar dit was snel geblusd. En terwijl men de kist liet zakken schooof het deksel eraf en gluurde Peter Giele voor het laatst naar zijn publiek. Alles bij elkaar een boeiende uitvaart in Peter Giele stijl. Hij zou het prachtig gevonden hebben.